Poets' Night Out 2018 Event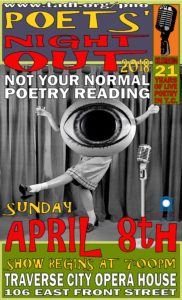 Now in its 21st year, Poets' Night Out continues to celebrate original poetry written and submitted by residents of Antrim, Benzie, Charlevoix, Emmet, Grand Traverse, Kalkaska, Leelanau, Manistee, Missaukee, and Wexford counties. Winning poems are published in the Poets' Night Out chapbook, and winning poets will be asked to read their poem at the Poets' Night Out event at 7:00 p.m. in the City Opera House on Sunday April 8, 2018.
Admission to this event is FREE, with general admission seating.